Recently, I took a short break from work and went on a short getaway to Hong Kong with the fiancé (yes he proposed!). I visited HK about a decade ago and those memories are still somewhat vaguely remembered.
It was an unearthly hour when we took our flight to HK and we survived with only 2.5 hours of sleep the night before. Okay, actually we were knocked out on the plane but it was really difficult to sleep properly and well. Especially for me, I find it tough to sleep while sitting. 🙁
Nevertheless, we reached Hong Kong 4 hours later at around 10am. Upon arriving Hong Kong International Airport, the first thing we did, apart from the immigration checks (which we had our first and early encounter of the 'attitudes' of Hong Kongers) and retrieving our luggage bags, was to get our HK pre-paid SIM card.
After getting our pre-paid SIM card, which we used it for googling places, especially google map which is very convenient (thank god for technology!), we proceeded to our hotel – The Cityview Hotel.
We were very fortunate that Cityview was one of the stops which the complimentary Airport Express Shuttle Bus alights at and what's more, it was the first stop :-
K5(To Yau Ma Tei & Mong Kok)

Service hours 06:12 – 23:12(every 20 minutes)
Stop 1: The Cityview
Stop 2: Metropark Hotel Kowloon
Stop 3: Royal Plaza Hotel
Stop 4: Metropark Hotel Mongkok
Stop 5: Dorsett Mongkok Hong Kong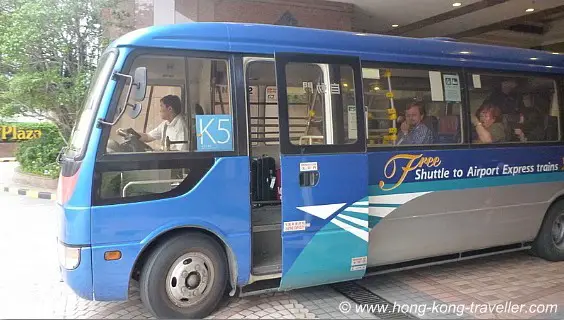 However, you will first have to take the Airport Express train to Kowloon which took about 30 minutes.
Do note that you will need to check if your hotel is one of those hotels that are entitled to this complimentary shuttle bus.
After alighting at Kowloon, we waited for about 10 mins for the shuttle bus and reached our hotel within approx 15mins.
To share, most travellers would probably consider these factors before booking a hotel :-
Location
Accessibility and convenience
Cleanliness
Affordability $$$
Amenities
Customer service (including receptionists and hotel room service)
Hotel Food
Wifi (need to include room wifi and not just hotel lobby!)
Hotel room size
Of course, to determine pts 6 and 7 will mostly be based on other travellers' reviews, which I had gotten from websites such as Trip Advisor, Expedia and Booking.com. I love reading reviews because it's like conducting you own little due diligence research so as to minimize any potential disappointment. 😛
The Cityview fulfilled most of the considerations mentioned above, save for hotel food which we didn't try as Hong Kong is just like Singapore – a food haven, and also the hotel room size which most hotels in Hong Kong are quite cramped. Although it may not be as spacious as other hotels in other countries, I was still quite pleased with the Cityview's hotel room. Oh yes, we were also upgraded to from Economy to Deluxe room! Not that this was done through complaining and demanding of any upgrading of room, the receptionist has very kindly upgraded our room type on her own accord. That certainly brought smiles to our faces 🙂
Furthermore, prior to reaching Hong Kong, we  emailed Cityview to request for an early check-in as our flight arrived Hong Kong at 10am+, waiting till 2pm to check-in may be a hassle especially when we were lugging our luggage around. Although they informed us that early check-in depends on the availability of the room, we were allowed to checked in earlier than 2pm when we arrived at the hotel 🙂
So kudos to their awesome customer service! 😀
Hotel front :
Hotel reception :
Hotel bakery :
Hotel cafe :
Hotel concierge :
Hotel room :
Hotel View :
The buildings opposite our hotel were 2 schools and a church. I was actually woken up by the church bell on our 3rd day which was a Sunday. I guess it's because Sundays are for mass sessions? I'm quite a light sleeper actually.
We rested for an hour or so in the hotel after settling down, specially since we were super lacking in sleep the night before…and then freshened up to head down to check out the vicinity area of our hotel. I think it's quite important to first familiarize yourself with the hotel surroundings so that you won't get lost?
We had our first meal after 7-8hours since our mac breakfast at our Singapore airport. As the fiancé loves 车仔面 (Cart Noodles), I was the one who pointed out the stall to him excitedly even though he was the fan, LOL.
This shop is located very near to Cityview hotel. Exit from the hotel's drop off point, cross the road and walk towards your right. Go round the bend and you will be able to see the Yau Mei Tei's train station hut.
The shop is just directly beside this entrance/exit.
You will be given a form to choose the choice of ingredients, noodle type and soup base.
The man's curry noodles…
Verdict : Even before we stepped into Hong Kong, we were quite apprehensive of the customer service quality or the lack thereof which we heard from our friends' and colleagues' feedback. But I think this stall's customer service was still acceptable, although once I whipped out my camera to snap pictures, they knew we were not locals and kept staring at us………..which you will get used to with time.
The 咖喱鱼丸 was not to my liking. There is this strong weird-ass taste and the meat balls was ugh…I'm totally not a fan of meat balls (except for IKEA ones but even so I get overwhelmed by their taste too).
Oh yes, may I remind you that the cost of food sold in Hong Kong is ain't cheap. A decent bowl of noodles in their partially run-down cramped food stall can easily cost you about S$7-8?
Address : 通逢食店 咖喱车仔面 , 油麻地碧街48號地下
Overall rating : 
I wasn't very satisfied with my lunch so we decided to walk around our hotel to check out what's nearby.
There were a few convenience stores located very near to our hotel and eateries are just stone throw away. Extremely convenient and easily accessible by MTR.
We walked on and on…and was fascinated with the beautifully-painted stairway which is not very commonly seen.
Because I was not satisfied with my lunch, I suggested to have something else. After walking around for awhile to check out the nearby shops and also to digest our food, we chanced upon this eatery restaurant.
We were there at around 4+pm so I guess that pretty much explains the emptiness?
Verdict : I was dying to try Australian Dairy Company's ham and macaroni so much that I decided to just give any ham and macaroni a try, hence we tried it at Kong Chu Kitchen. Honestly, it tasted mediocre and nothing was special about it. It was a tad too salty too. But I would prefer this over the curry cart noodles anyway.
Oh, and this was the first time I'd tried the milk tea in Hong Kong which I kinda loathe. It has this special taste, totally different from our local milk tea. Initially, I thought this only applies to Kong Chu but the fiancé said this is how milk tea in Hong Kong taste like, which I concur after trying other milk teas subsequently.
Address :  Kong Chu Kitchen 港廚 
G/F, 448 Nathan Road, Yau Mai Tei,Yau Ma Tei
油麻地彌敦道448號文豪閣地下
Overall eating : 
After which, we headed back to our hotel to rest awhile again (I know, old souls right!) before dropping by our 1st stop of the places of interest – Avenue of Stars! 😀
We took the MTR and alighted at East Tsim Sha Tsui Station and Exit at J. You may check out the bus and ferry routes here.
Before we reached Avenue of Stars itself, we were actually super mesmerised by the beautiful landscape of skyscrapers!
Some hand prints of HK superstars…
Avenue of Stars (No.20 Salisbury Road, Tsimshatsui, Kowloon,Hong Kong, China)
If you walk down the lane, you will be able to view the habour which we alighted from Macau on our 3rd day.
There are nearby shopping malls selling luxury branded stuffs, so if you are keen, you may drop by to have a look.
We were looking for a suitable 茶餐厅 for our dinner but to our surprise, the whole stretch of the lane did not even have any eatery! Hence, we had to walk on further to search for one.
Finally, we chanced upon this 澳门茶餐厅 (Macau Restaurant).
Wanton mee which tasted quite alright…but the wanton skin looks like soaked tissue paper, don't you think? 😛
澳门茶餐厅 (Macau Restaurant)
Address : 25-27 Lock Road, Tsim Sha Tsui, Kowloon
Not wanting to waste the last few hours of the night, we decided to drop by temple street to patronise its night market, although we were rather dead beat 🙂
Address: Temple Street, Yau Ma Tei, Kowloon
How to get there?
MTR Yau Ma Tei Station, Exit C, turn onto Temple Street at Man Ming Lane.
MTR Jordan Station, Exit A. Turn right onto Jordan Road and then take another right onto Temple Street.
And that was our Day 1 in HK… more to come so stay tuned! 😀